The full moon was glowing brightly over Gabriola Island when Sarah and I were on the ferry headed home to Nanaimo from Vancouver. We had been to see to see Dr. Mark Hill, the plastic surgeon, who , in January moved some muscle in my left shin and did a skin graft. He's been keeping an eye on it at nine appointments so far this year. I thought that would be the end of the visits, but we'll be going back in a couple of months for hopefully, a final appointment.
Our trip to Vancouver on August 18th marked an anniversary of sorts as I had a CT scan that day last year at the BC Cancer Agency in Victoria. It was the second scan to plan radiation treatments. Four permanent marks on my leg would later help the radiation therapists line up the machine to give me twenty-five treatments over five weeks in another area of the building.
While in Vancouver, we added a couple of extra stops. One was at the Cardero Bottega on Cardero Street for a second breakfast as we had left home so early. It was a charming little café with a floor made of copper pennies in a lovely neighbourhood. I could imagine living upstairs and having a shop at street level.
The other was a visit to Sarah's brother and partner's home in the west end. I elevated my foot while Sarah took a walk around the garden with David. Later I reflected on what she had told me about his garden plan:
You carried stones from the shore
— you've done that for years now –
placed them along the edge of the building,
intentional rows, created a footpath with pebbles.
When it rains, the stones become iridescent,
shine like memories that refuse to be forgotten,
left alone.
Writers are always in this place of memory along with a blending of the present "what is," and a future imagining. Dr. Hill said, as my leg is healing and I'm walking better, we can get back to our lives. We can't really get back to the lives we were living a year ago. Life now presents us with new possibilities.
"I dwell in Possibility," poet Emily Dickinson wrote and I feel I do the same. Without the possible, I feel fairly down in the dumps. The possible comes with silence because it is often full of non-doing. When I wake up in the morning I don't usually spring out of bed. I reflect on my dreams. I savour the comfort of the bed. I imagine possibilities for the day.
On the warm days we were experiencing lately, the mornings were a fresh, cool beginning. I cleared off a book shelf and put a pile of literary journals aside to pass on so they'll have new life, new possibilities, in the hands of new readers.
I know the ocean has to be part of my day so Sarah and I go for a walk at Neck Point. I don't walk the whole rim but we do one stretch to Sunset Beach and sit at a picnic table looking out at the azure water. We switch from the shady table to the sunny one.
We're not sure of many things – where we'll live, if Sarah ought to work more or less outside the home as a salaried employee. While we're not sure of some things, I have a pile of books from which to pick the next to read. Or sometimes, it's a few to read at the same time. And with several writing circles coming up, I can decide which theme to focus on right now.
Things sound pretty simple and they are actually. Sometimes though, I feel I'm not making any sort of major plans as I'm waiting for the other shoe to drop, as the saying goes. And yet the lack of "major" planning can be a good thing.
Mark Nepo, in The Book of Awakening (Conari Press, 2000), described a friend traveling around Europe who "despite her plans" found "her interest drew her in different directions, and a path unfolded that she couldn't have foreseen. Each point of discovery led to the next, as if some logic out of view were guiding her. During this phase of her journey, though she often wasn't sure where she was, she never felt lost. It was when she needed to arrive at a certain station at a certain time that she felt she was off course, astray, and at the fringe of where she was supposed to be.
"All this led her to realize that the more narrow her intentions on any one day, the more she felt behind, late, and lost. In contrast, the wider her net of designs, the more often she felt a sense of discovery. Regardless of where she had to be, it seemed that the more open to possibility and change she was, the more she felt like every moment she came upon was holding a treasure she was supposed to find."
That "net of designs" definitely sounds enticing especially when it's wide. Mark Nepo suggests a walking meditation, choosing somewhere nearby you'd like to walk to. "Be open to what catches your interest" along the simple route and "follow that interest." He says: "Practice letting go of your plan and discovering the path of interest that waits beneath your plan."
Recently, in a writing circle, we used a quote of Mark Nepo's as a writing prompt. It was about being "faced with the endless and repeatable task of discovering or uncovering, our enthusiasm, which means in essence being at one with the energy of God or the Divine. The word itself comes from the Greek, en (one with) and theos (the divine.) It seems to tie in nicely with dwelling in possibilities.
I just finished Camilla Gibb's memoir, This is Happy (Doubleday, 2015), in which she wrote: "Since my daughter was born, I have gone to the Quaker meeting house on the occasional Sunday to sit in silence among others. I sit there simply as an invitation to possibility. As a reminder to keep my head and my heart open."
I wondered what Buddhist nun Pema Chodron had to say and had a look in her book Comfortable with Uncertainty (Shambhala, 2008). Under the heading of "Be Where You Are," she says: "You can cultivate the four limitless qualities of love, compassion, joy, and equanimity by learning to relax where you are. There's no problem with being where you are right now . . . Expansion never happens through greediness or pushing or striving. It happens through some combination of learning to relax where you already are and, at the same time, keeping the possibility open that your capacity, my capacity, the capacity of all beings, is limitless."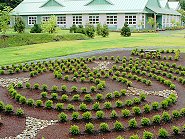 I've been looking through my blogs of the past year and I see I quoted from one of my poems called "Walking the Labyrinth at Honeymoon Bay":
The sun is setting behind the poets' retreat,
the old school, lumbermen's cottages in orderly rows.
Along the spiral path, a feather by the boxwoods,
the ever-present crow. Magic is everywhere,
anything is possible.
And perhaps those stones on the path and along the wall in David's garden, are also possibilities. The night before last, I saw Venus and Jupiter, close together and low in the sky. Seeing such wonders with the naked eye could indeed mean anything is possible.